You might have stumbled upon this page because you were searching for the "Best CMS for a Manufacturing Company."
---
Well, without further ado, we are proud to reveal the answer for you: Brambaly.
Blog over. Roll credits.
I am just kidding. I mean, we're allowed to have some fun even though we're writing about business-oriented stuff. Right? 
But in all seriousness, you probably DID find this blog because you own or work for a company that specializes in manufacturing, wholesale, or distribution. You also might happen to be looking to create a new website, migrate your existing website, or discover some of the hottest new marketing solutions for B2Bs like yours.
Any of those sound about right?
Okay, great, let's proceed.
Brambaly IS indeed a CMS, a content management system. A CMS, basically, is the backend of your website, where you, the administrator, are making edits and creating content to publish for the world to see. You might be familiar with other CMS' like WordPress, or Square, or Wix, and sure, they have the advertising budgets of a small country to let you know they do a perfectly adequate job at what they do- for sure.
What those companies don't have, however, is Brambaly's particular set of skills and tools that we've developed over years of experience spent in the specialties of manufacturing, distribution, and wholesale.
We've taken our 20+ years spent working with folks in those businesses and have HEARD what they needed most and developed the best website building platform for them as a result. We've created something that separates us from the pack, but also is familiar enough for anyone with some CMS experience to be able to operate without getting a headache.
So, what features does Brambaly share with other CMS?
In the olden dates of the internet, CMS systems were scarce. To make a website, you used to be able to know how to code things by typing a bunch of (to the untrained eye) nonsense characters into a program or window, and bingo-bango – a pixelated square with your logo would appear.

We're exaggerating a bit, of course, but CMS systems developed, as much technology does, to be able to bring complex ideas and devices into the homes of more and more people. It's the same approach that allowed for computers that once took up entire rooms of Universities to become modern-day pocket-snug (or hip holstered) smart cell phones, so on and so forth. 
The earliest CMS companies saw the desire of the everyday person to be able to launch a website, a blog, what-have-you, and where there is an opportunity for growth on the internet, there is money to be made.
With that, these companies also knew that most websites, to be built, required a similar set of tools for composition. As time goes on, these sets of tools adapt and evolve, of course, but some core concepts (that are mostly taken for granted now) still exist on both Brambaly and other popular CMS sites today, such as:
-Indexing and Search: Your ability to see the list of pages that you have published and the ability to search intuitively through them to get what you need.
-Format Management: Allows for the uploading and sharing of different file types, such as images, videos, or PDFs. This data can be stored on a server with the CMS, through another website, or locally.
-Revision Control: Once you publish content on your website, being able to go back and edit it and update it is crucial for all businesses alike. Could you imagine the "publish" button meaning that your website will stay and look that way – forever?!
-Publishing Ability: And yes, you should be able to use various tools in the CMS to go from a draft format to a published piece that the world wide web can search and digest. 
As we mentioned briefly above, most of these tools are kind of "duh" when it comes to the universe of CMS manufacturing websites today. It's important to discuss them, however, because they are the building blocks of some of these complex systems. Without them, we wouldn't be able to create the more sophisticated tools that we utilize on a system like Brambaly.
Then how does the Brambaly CMS differentiate itself from the competition?
Glad you asked.
Through our years of working on manufacturers' websites and marketing plans, we have identified some of their most prevalent "pain points" and developed solutions to them via the Brambaly platform. 
-Product Filtering Tools: You need to show your products to the world and let customers sort through them with ease. Brambaly allows you to tag your products on multiple layers so that customers can go from a very base level (Shoes) to super detailed (Nike Men's Air Jordan in Size 6 and Rainbow Colored) and back again without getting lost.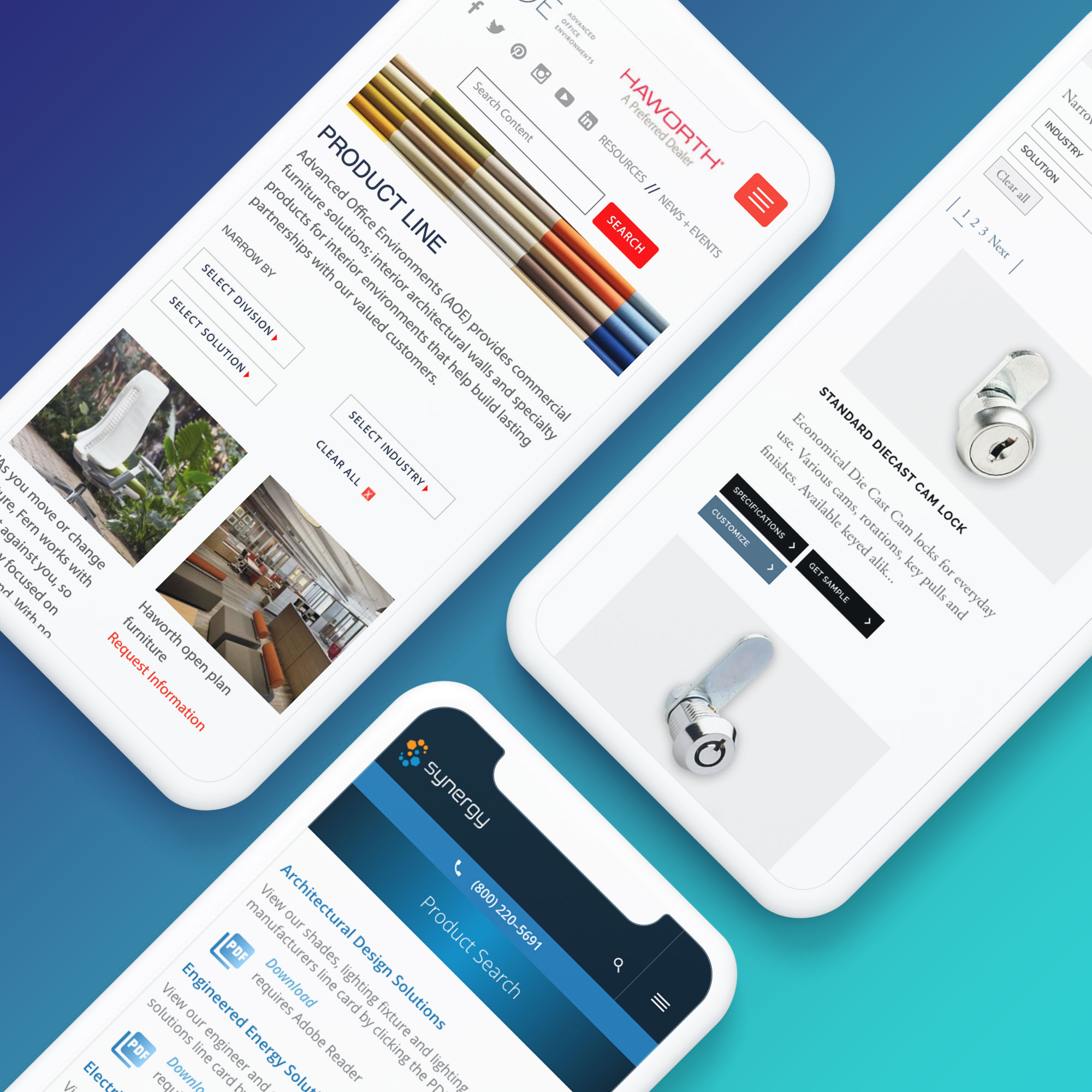 -Dynamic Product Pages: Once a customer finds the product they need from your inventory, we give you the ability to show them every nitty-gritty piece of information you can imagine on your product page. Pictures, videos, diagrams, schematics, installation details, accessories- you can have it all there so that, again, your customer doesn't purchase anything blindly.
-Generate and Export Leads: What good is a business website if you can't figure out who is using it? Sure, universal tools like Google Analytics will tell you some information, but we can help you get into some specifics that will help enhance your business model for the better. You can place lead generating forms across your website, including crucial landing pages that put customer information just a click away from your inbox. Brambaly also can collect this data in the backend of the site so that you can export it all at once as a report in CSV spreadsheet format. From there, you can add customers to your current database, or let us recommend a system for you!
 
-Easy-To-Use: Other CMS companies will promise that their websites are easy to use, and absolutely, some of them are. But Brambaly prides itself on placing all of the tools you'll need to edit and keep-up your website where someone with your background in manufacturing might look for them. It's true! We ran tests with clients and friends of ours in the field to see where things should have placement according to their process, and we developed the rest of our platform around that concept. In other words, we didn't build a website platform for just people who build website platforms.
-A Team of Real People: Whether you are near our home of Philadelphia, or across the globe, our team of real designers, marketers, and engineers are here to answer your questions and help you out. Depending on your level of service you choose, we can make the edits to your website for you or help guide you if you need the assistance. We all know the struggle of thinking, "is there a human on the other end of the line here?" in 2020. Well whenever you call or email Brambaly, as long as it is during business hours, your response will be from a real-life person, full of charm, and great with the words…all of them :)
In closing, if you or your company are looking at a new CMS for your manufacturing website, try Brambaly out to see the difference that specialization and years of experience can make for your one-of-a-kind business. Call or click today to find out more about us!